OT: Canton MI Olympian and an Olympian hopeful
By joe
- 2 minutes read
- 362 words
Took off work early to take family (and Captain!) to see Allison Schmitt at Canton's Heritage Park. For those who don't know, Allison won 3 gold medals, a silver, and a bronze at the 2012 Olympics in London. We watched 2 of her races, most of Ryan Lochte's, Michael Phelps, and as many of the swimming contests as NBC broadcast (sadly not enough). My wife and I enjoyed the races, and, as it turns out, so did my daughter. She has started swimming competitively, and will be starting at Club Wolverine this fall. Here is a picture of Allison Schmitt with my daughter.
[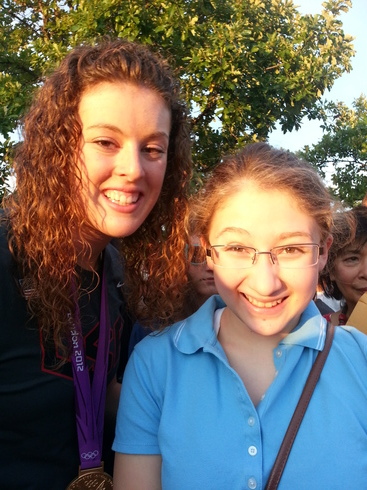 ](/images/20120814_200050.jpg)
Allison is on the left, and yes, that is one of her medals around her neck. She was most gracious, sitting and signing autographs, taking pictures. Her family was wonderful as well, sacrificing their precious time with her to allow her many home town fans to see her in person. To share your precious time with her, with us. We really appreciate it! I am very happy for her accomplishment. She should enjoy it, bask in it. Know that she is inspiring other young swimmers to try their hardest.
[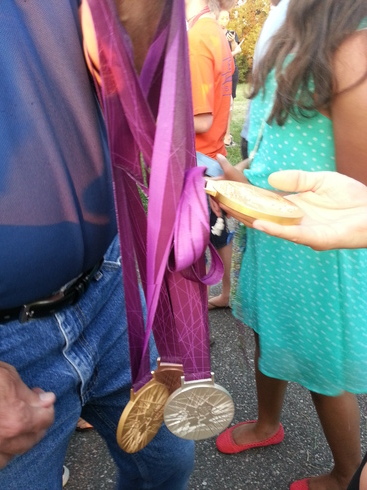 ](/images/20120814_201927.jpg)
During the games, AT&T; aired a commercial I really liked. They showed a person watching Ryan Lochte winning a race, and showed his time. And the kid watching the race went into his room, and erased the old time under the word "Goal", and wrote Ryan's time there. Meeting Allison in this way, seeing, and touching a gold medal … its pretty inspiring to a young swimmer just starting out.
[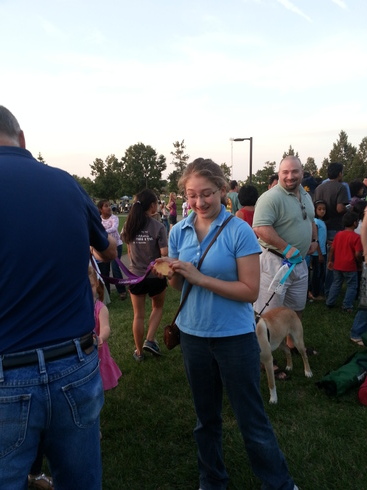 ](/images/20120814_202137.jpg)
The aspiring swimmer is looking up her own times right now on various races, and seeing where she needs to be in a few years for Rio. She might not get there, but she's going to have fun trying. And Allison Schmitt has been (and will continue to be) one of her inspirations. Here is the Detroit Free Press article on this. Thank you Allison, Missy Franklin, Katie Ledecky and the whole cast and crew of the US 2012 Olympic swimming team … you did a wonderful job, and we are proud of you!