OT: Welcome to the newest member of our family
By joe
- 2 minutes read
- 355 words
Captain is a rescue dog from the CHAINED Inc. organization. He is the dog on the right at 1:21. His sister is the dog on the left of that frame.
[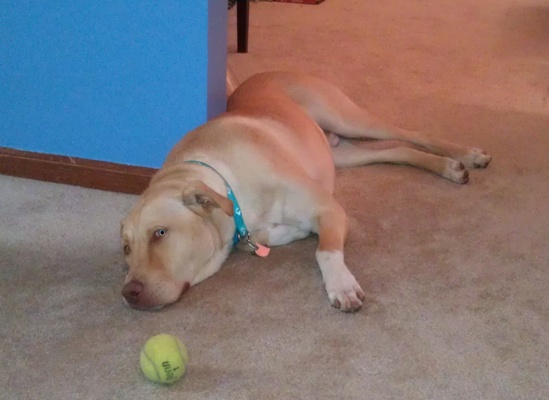 ](/images/captain.jpg)
Captain is a 9 month old or so yellow lab. He was badly abused. He has major trust issues, and I don't blame him for this. It will take time to learn to trust. He's been with us 5 days now, and loves my wife and daughter. Me, he's still trying to decide about. Still scared of men in general. Gives you a glimpse of who abused him. He was with the foster family for 2 weeks before we got him. I had heard about him though my sensei, he and his sister had been chained outside, with food and water given every several days. Chained outside from the time of his birth until he was rescued. For those outside the US, and the Detroit Metro area in Michigan, its been hot here this summer. Very hot. Very dry as well. They were in the direct sunlight during this time. No shelter. Chained had been visiting them, feeding them, trying to get permission to build a shelter for them for weeks after their discovery. The story gets worse from there. It pisses me off when I think about it. Captain is a part of my family now, his sister was adopted by another family a few days before we could visit with him. He gets continuous fresh water, and the recommended amount of food. Typically 5-6 walks per day, in part for the body function aspect, and in part to help provide sensory input and exercise. I've got to look to see if I can bring him to my office for longer than a short visit. Our lease may preclude that, but we will see. He can hang with me during the day. Like he did all weekend long. First vet visit for him (his new vet) is Tuesday. His ribs were showing when he was picked up. Still thin, his appetite isn't quite where it needs to be. But its getting better.