[updated at bottom] Apparently there are people this profoundly ... well ... see for your self
By joe
- 5 minutes read
- 917 words
At first I was ready to discount this as "entrapment" or something like gonzo journalism. But … its … not … A plain and simple question, nothing complex. Should we ban corporate profits? What is astounding, or horrifying is the location where it is being asked, and the seemingly normal people happily espousing what is basically a ridiculous concept.
Here is my take on this. First off, Peter Schiff is something of a notorious guy. He is a partisan, and ran for a republican seat in congress. Second off, he is one of the smartest financial guys around. Predicted the current crisis, before it was a crisis. Before it was an inkling of a crisis. And he was ruthlessly set upon by other pundits, the media, etc.
Third, he was dead on right. Its scary how right he was. Could have been a lucky guess, but … well … no. Fourth, the question was too simple to be misunderstood. As much as I want to dismiss this as entrapment and forcing bad answers out of otherwise sensible people, it simply doesn't look like that at all. It looks like delegates and attendees at the DNC want to redistribute profits … to ban profits … to fund their pet projects. Whats wrong with this? If I have to answer this overtly and explicitly, we are collectively in far deeper trouble than I have thought we are. Profits and capital formation are the heart of economic growth. Without capital formation and risk taking, jobs are not created. The people in the video come off as being clueless, dumb, idiotic … pick any adjective you wish to describe someone espousing something ridiculous, with serious intent, and a straight face. How can you sensibly be against corporations earning and keeping profits so that they can re-invest them, or their share holders (owners) can take these profits and … wait for it … re-invest them (e.g. capital formation, which provides capital to fund economic expansion, and job growth … amazing how that happens). And … yet … they … are … against … this. Correct me if I am wrong here … doesn't this smack of "from each according to their ability" … which isn't simply a dangerous slope to go down … those pathways never end well. History has taught us that they take a terrible toll on life, liberty and the pursuit of happiness, among other things. But back to the psychology aspect. Why on earth would otherwise, seemingly intelligent people, espouse nonsensical positions like this in answer to a simple question? Could it be that they really believe this? If so, there are so many opportunities to demonstrate their belief system … from eschewing corporate clothiers who profit off the labor of others, to eschewing corporate medical device makers whom ground lenses and made frames in order to make evil profits, to relocating their convention in a field so that corporate owners of venues wouldn't profit from their use and rental of a space … I mean the irony is simply astounding. That is, unless they were regurgitating a message spoon fed to them. One where companies and corporations were eeeevvvvvuuuuullll entities, needing to be drained of profits (profits == bad in the hands of corporate entities). Unfortunately, this fits in perfectly, hand in glove, with the narrative of the party. We didn't build it, the someone else made it happen. So we owe others. And we have a "shared prosperity" to look forward to. That phrase is one I heard quite a bit last night. I can see two divergent meanings of this phrase. One is being a good citizen, corporate and public, and giving back to our community. This we do now. The other is the hard core redistributionist message that really … they shouldn't even allude to. This could be dog-whistle politics … where if you see that latter message, you are the dog. You see that in the media now with these wild accusations of racism code words being embedded in speeches being made by most of the (far/hard left) media, and by minions of the Obama campaign. It would not surprise me. But this second message would perfectly dovetail with this video. Share the prosperity. Share the profits. This is the 21st century. Lets stop using failed ideology and economic theories of the 19th century. [update] I like Jon Stewart, and sometimes he has a valid point. Here, the Daily Show team … totally nails it (link here in case video doesn't show).
I am going to go out on a limb and say … yeah … Schiff may have exposed something here inadvertently, which the Daily Show amplifies. These folks are not what you'd call … I dunno … a brain trust? Tolerant of others? The whole spiel with the party calling itself the inclusive and tolerant party juxtaposed next to … I dunno … rank intolerance of the party members is … priceless. The fallback to stereotypes, the use of degrading labels … If it weren't completely sad, it would be very funny. [update 2] Any doubts I might have once had about the veracity of "the really think that way" have now been erased. c.f. this.
[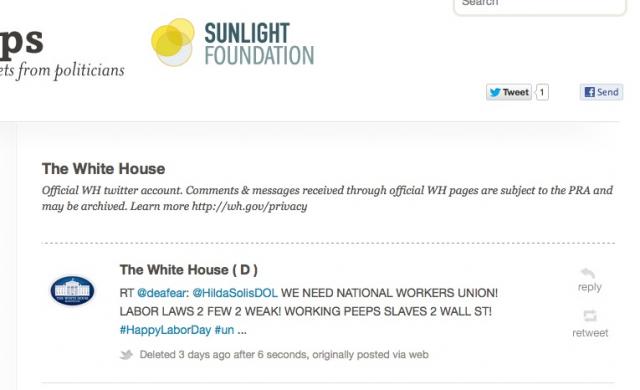 ](http://www.weeklystandard.com/blogs/wh-retweets-working-peeps-slaves-2-wall-st_651837.html)
This is really what they think. From top to bottom. The most inclusive party, except for them thar teabaggers, rednecks, and others who don't tow their line. And those darned Wall Streeters always profitin' like mad while we wage slave away. Truly incredible.